ORO
LOVE. SHARE. FOOD.
We are excited to annouce that ORO will be reopening its doors on Tuesday, June 9 at 5:00pm. We will begin serving dinner Tuesday – Saturday from 5-9pm.
We've always taken great pride in serving our guests and crafting a fantastic dining experience. We are committed to finding new ways to continue doing what we love while keeping the health and safety of our guests & staff paramount. Please bear with us as we navigate this new situation and modify the ORO experience to meet the new NCDHHS requirements. We miss all of our beloved guests more than you know, and are extremely appreciative of the support and love received from our community.
If you'd like to make a reservation, please call us at 919.239.4010 or email us at info@ororaleigh.com.
We look forward to seeing you soon!
View Menus
Reservations
ORO Restaurant & Lounge located in the heart of Downtown Raleigh, is a fun, chic, and casual restaurant in the PNC Building at the corner of Martin and Wilmington Streets. Rather than offering individual starters and main courses, ORO serves dishes that are designed for sharing among friends and are brought to the table steadily and continuously throughout the meal.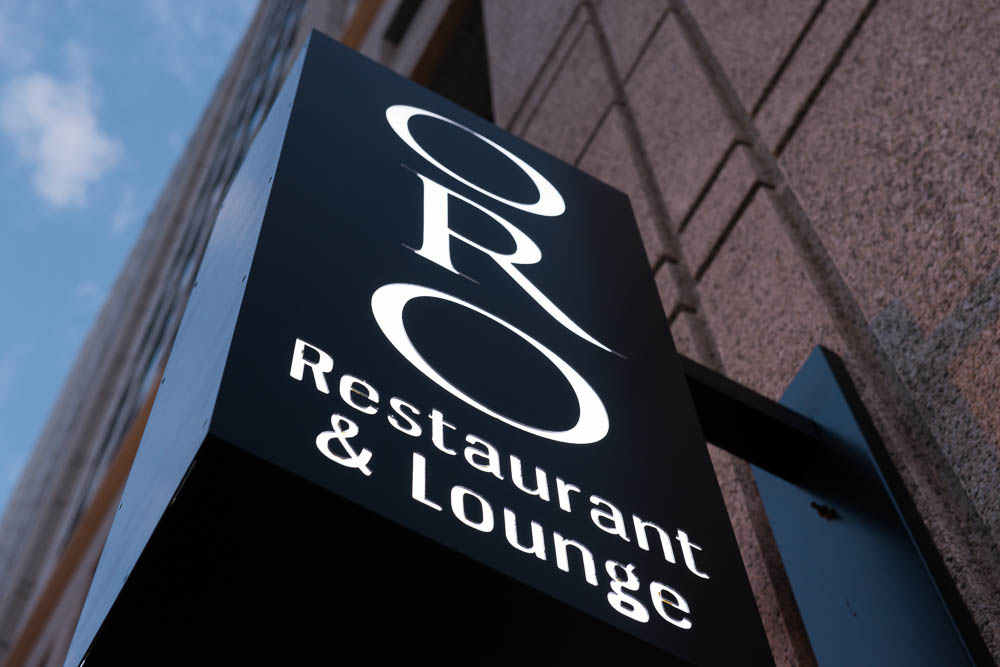 "Excellent experience. Chef Chris saved our night. We arrived past our reservation time for my birthday dinner. My girlfriend was worried that we would lose our table and was cursing mad at the Raleigh parking situation. Chef Chris helped to calm her and made sure we had a table. He saved my birthday night. It was our first visit. Everything (including the drinks) was very well done. We'll be back."
Mel Black

"Fabulous food & flawless service"
"Our sincerest compliments to the chef! My boyfriend and I went here to celebrate his 30th birthday tonight and it was nothing short of amazing. We've eaten at many restaurants all over the country and this is definitely in the top 3. Everything that the chef made for us was absolutely amazing. The service was superb and our waiter was so, so nice. We can't wait to return! "
Stephanie Mack

"Another successful experience"
"Went to Oro during restaurant week. 8oz New York strip steak was great. They sous-vide then sear. The smoke and mirror Manhattan was wonderful presentation and (of course) delicious. Will definitely recommend and return."
Jeremy Smith

"Just wanted to tell you that the food was excellent. We had a large group that was served with the best staff. Everything and everyone was just wonderful. This was spoken about several times at the wedding and even after I came back to Texas. ORO was a great choice for me. Thank you for making wedding rehearsal dinner special."
Diane Campbell
Drop Us a Line
Don't be shy! Let's us know if you have any questions. We are here to help make your dining experience perfect and look forward to hearing from you.
Lunch:
Tuesday - Friday: 11am - 2pm
Dinner:
Monday-Thursday: 5pm - 10pm
Friday-Saturday: 5pm - 12am

We accept all major credit cards.